The Guardian®: Answering The Lesson Of 9/11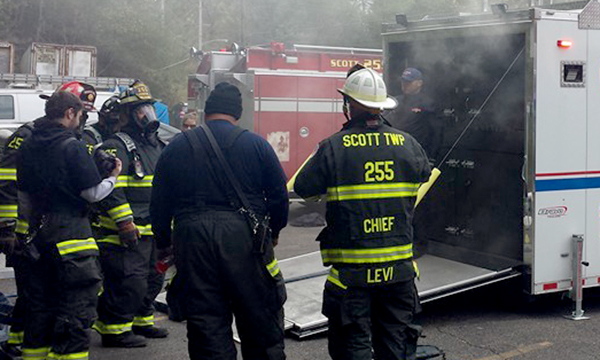 The Guardian® Safety and Survival Training Simulator gives the ability to make training ongoing, flexible and more accessible than ever. Designed and manufactured by PPES, this completely mobile unit is able to recreate hundreds of the disaster scenarios that first responders are likely to encounter.

Like a Swiss army knife, the Guardian® is designed to handle a multitude of training regimens. To that end, the interior can be re-configured for each training scenario, ensuring that each trainee, regardless of tenure, or how many times they have trained on the unit, will be challenged afresh. Designed to fit inside the majority of indusrtrial facilities and fire stations, the simulator can be utilized throughout the year, regardless of weather conditions or location. Each unit is designed from floor to ceiling ensuring that it will meet your specific needs, whether your department is rural, urban or in an industrial setting. From the Command Center, realistic sound effects, lighting and smoke release can be controlled while multiple cameras provide constant monitoring of trainees throughout the unit.

The tragedy of 9/11 made it clear that anything other than real-life training is not an acceptable strategy for search and rescue preparedness. Unfortunately, our nation's first responders still find themselves hindered by the limited opportunities to receive vital real-life-experience training required to deal with such crisis situations – until now.
As real as it gets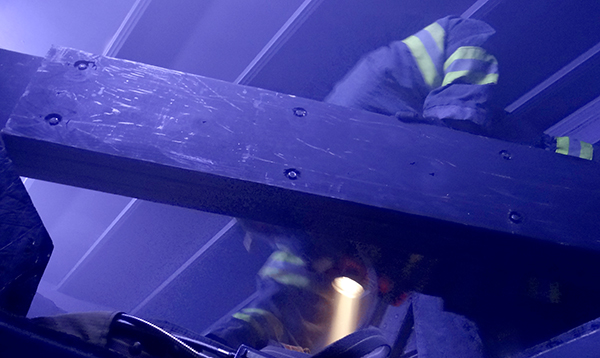 Designed to create the most mentally and physically stressful situations that a first responder could experience in a disaster situation, the Guardian® realistically recreates the effects of earthquakes, explosions, cave-ins and fires in a controlled, safe environment. Built to realistically recreate the inside of a three-story building with the third floor collapsed into the second floor and the second floor pancaked into the first level, training scenarios include crawling through narrow, rubble-clogged, smoke-filled passageways no higher than an office desk. Acting as a team, rescuers develop the necessary skills for stabilizing the environment by shoring up flooring, removing debris, breaking through concrete and cutting rebar in an effort to rescue a trapped victim. Hindered by limited visibility, smoke and debris, and encumbered by pounds of protective gear and bulky breathing apparatus, trainees learn the essential value of teamwork and strategizing under conditions that have been referred to as being "as real as it gets."
Anywhere training is needed, covering all scenarios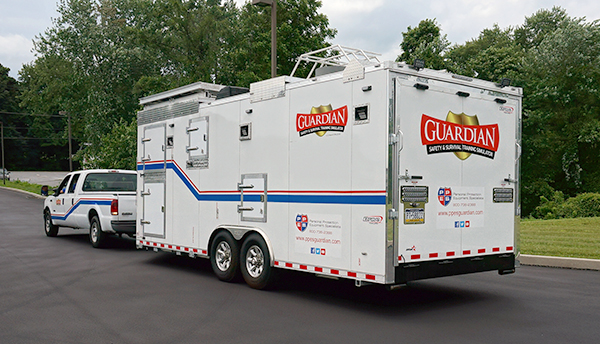 In addition to collapsed-building rescue scenarios, the unit can accommodate other training regimens with the inclusion of a leaking gas cylinder kit, railcar training dome, window rescue/ bailout kit, sewer-line rescue apparatus, and earthquake e-shock simulator.
Designed to be easily transported using a pickup truck, the Guardian® can go wherever training is needed.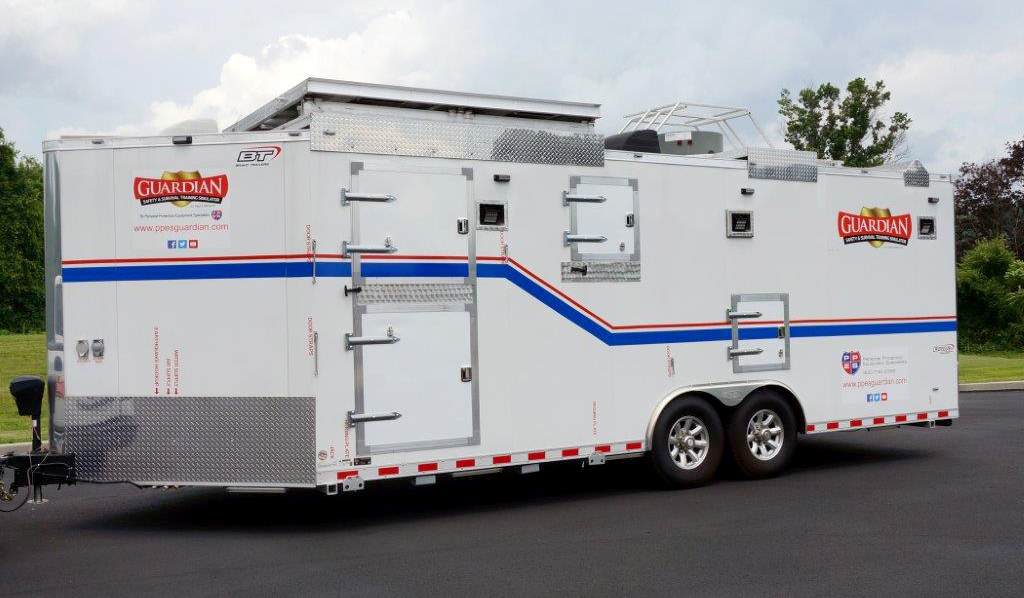 BASIC SIMULATOR SIZES
22' x 8' Guardian® Simulator with a 5' V-Nose, 14,000 GVW
30' x 8' Guardian® Simulator with a 5' V-Nose, 14,000 GVW
Each Guardian® is Individually designed and built exclusively by PPES to meet YOUR requirements.
Whether designed for use by FEMA Urban Search & Rescue operations, terrorist task forces, Federal law enforcement, emergency medical service providers or local volunteer firefighters, the Guardian® Safety and Survival Training Simulator can be reconfigured and customized to reflect hundreds of rescue scenarios.
Additional options allow for the flexibility that makes the Guardian® an ideal real-life training module for use by a broad range of first-responders. Air pistons can simulate after-shocks and structural settling. Additional modules can allow for training in a window-rescue situation, cement wall breaching or a sewer line escape can be incorporated in the simulator.
Bravo Star 8.5 x 30, GVWR 14,000#
2-7K Dexter EZ Lube Torsion Axles
Electric Over Hydraulic Disc Brakes
"G" Load Range Radial Tires
Aluminum Spoke Wheels
Sealed Floors & Walls
8" Tube main frame
Floor Cross Members 12" OC
Walls Post 12" OC
Ceiling Cross Members 12" OC
.050 White VHB Fastenerless Aluminum Exterior Skin
6" Extra Height, Ceiling Height 7'2"
Polished front & rear castings
Stainless steel front vertical corners
Anodized rear corner overlay
40 AFF in middle of wall
Conduit for all wiring
Stub wiring for 12V Golights
Total blackened environment
Teeter totter/unstable floor
Two floors setup
Set of stairs
Breaching wall
Removable rope entanglement
Removable open floor joists
2 smoke machines for light smoke one on each floor with safe smoke
Leaking gas lines and valves (uses compressed air)
2 floor collapses each weighs over 250lb and have 11" hinges with 1" pins made of 1?4" steel and has 6 hinges for safety
Heavy debris and large beams
2 openings in the floor to do a man down and plug locks to keep closed when not in use for safety. A movable breaching wall on top floor with Durock in center for breaching
Obstacles
Romex wall with debris pieces held by Fromex wire and woven through the wall
2 wall frames as broken debris pieces
All debris, walls and beams are labeled for placement with a book provided.
Walk On Roof with 3/8" Plywood Under Roof
3/4" Advantech Floor & Ramps
3/8" Plywood Walls
Rock-Guard Paint on Tongue and Rear Cross Member
60" V-Nose with 60" Triple Tube Tongue
Rear Heavy Duty Ramp with Transition Flap
Medium Duty Ramp In V-Nose
2 Rear Bogey Wheels to prevent dragging
Clear lens LED Clearance & Tail Lights
LTF .050 Metal Skin Upgrade
12V automotive battery & box - mount to the floor in V-nose as far forward as possible
Tandem axle super star exterior package
Steel wheels
Stainless steel center caps
Stainless steel front insert
OPTIONAL FEATURES AND TRAINING KITS
Window-rescue Roof Kit
Earthquake After-shock Kit
Exterior Sewer-line Rescue Kit
Concrete and Drywall Breaching Kit
Railcar Training Dome
External Command Center pre-wired for electronic monitoring and control
Infrared Camera Viewing Kit
Internal Surround-sound System w/ realistic sound effects matching specific training scenarios
Power Vents for quick-removal of smoke
2-Cylinder Leaking Gas Kit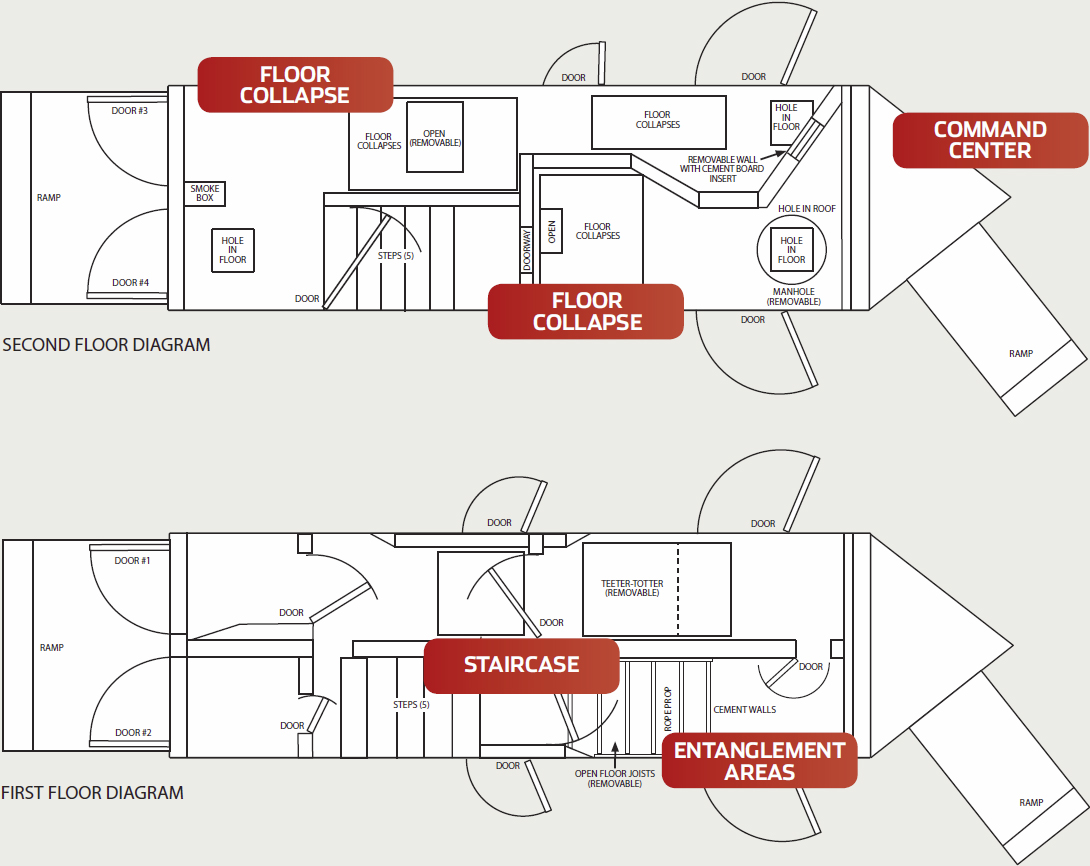 Collapses (A & B Frame, Lean-to, Flat)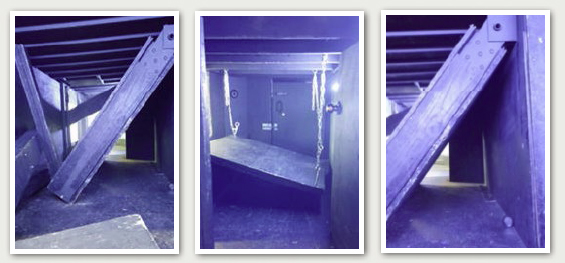 There are multiple collapse props on Division 2 of the simulator. These heavy-duty floor props are hinged on an angle with reinforced steel plates. This creates void spaces where victims can be placed. A plug can be bolted on the end of the collapse to block off the opening of the void space and prefabbed debris can be placed throughout the collapse area. There is an opening cut into the collapse section that allows for the insertion of Durock, plywood or concrete molds. This gives rescuers the option of using a variety of tools to go through the collapsed section or pneumatically lifting the 300+lb sections to remove a victim. Many of the scenarios focused around these props were developed from real-life experiences of first responders during the aftermath of 9/11 at Ground Zero.
Entanglement Areas
Our entanglement prop is removable and is located in a crawl space area. It is framed and attached from the floor to the ceiling with ropes and wires. These ropes and wires are connected in a manner which would simulate a drop ceiling falling, thus creating difficulty for responders to advance. If the wires are cut or severed, they can be easily replaced for the next training session. This prop allows responders to maneuver by crawling or cutting their way through a variety of entanglements that they may experience in office buildings or structures that are under development.
When the entanglement is removed, a concrete wall breaching prop can be bolted into its frame. This concrete mold is reinforced with rebar or wire throughout for increased realism. Responders can use a variety of tools designed for masonry and steel to breach this area. This prop offers the rare opportunity to experience working in a collapsed and confined environment surrounded by concrete. Durock may also be placed into the entanglement frame instead of concrete. The Durock is precut and multi-layered before being bolted into position. This enables responders to use their typical hand tools to breach a larger area than allowed with our reduced profile opening.
There are multiple reduced profile openings throughout the simulator. These sections are completely removable and offer the option of a 12"-16" opening. The openings allow for Durock, plywood or drywall insertions. These inserts give responders the ability to train on breaching walls and escape between wall studs during a life or death situation.
Swinging Ceiling
The Swinging Ceiling prop is placed near the alpha side entrance. It is made of multiple pieces of plywood that are screwed and glued together. Hung from the ceiling joists by heavy duty chains and I-bolts, it is able to be raised or lowered and cocked side to side to allow for a responder to crawl over or under. The purpose for this is to allow first responders to experience crawling under drop ceilings while having difficulty maneuvering their SCBA in these challenging spaces.
Staircase
Our staircase leads up from Division 1 to Division 2. It is a set of five steps made of prefabbed risers and 2"x10" steps. The top 2 steps are fastened in the middle underneath with heavy duty slide bolts. Theses bolts can be substituted with ½" oak dowels to allow for a collapsing set of steps. This enables responders to practice the proper assent and descent of staircases when the integrity of a structure has been compromised. Many Maydays are called as a result of falling through staircases into basements.
Floor Collapse
On Division 2 of the simulator, there is a pressure sensitive section of the floor. This section is hinged underneath on one end and supported with gas piston struts. When unlocked, a responder will unknowingly crawl onto and sustain a controlled slide from the 2nd floor to the 1st. This feature allows for the training and mental comprehension of falling through a floor. When locked in place, it becomes a solid section of the floor. It can also be locked in the position as to simulate a floor that has collapsed to the floor below.
Miscellaneous Debris Props
Packaged inside the Guardian® are prefabricated props designed to represent various structural debris. These props vary in size and length just as beams, posts, and joists would in an actual structure. There are also props that represent large and small sections of walls to assist in the realism of a collapse scenario. These props are strategically placed in the simulator for ease of deployment during training operations.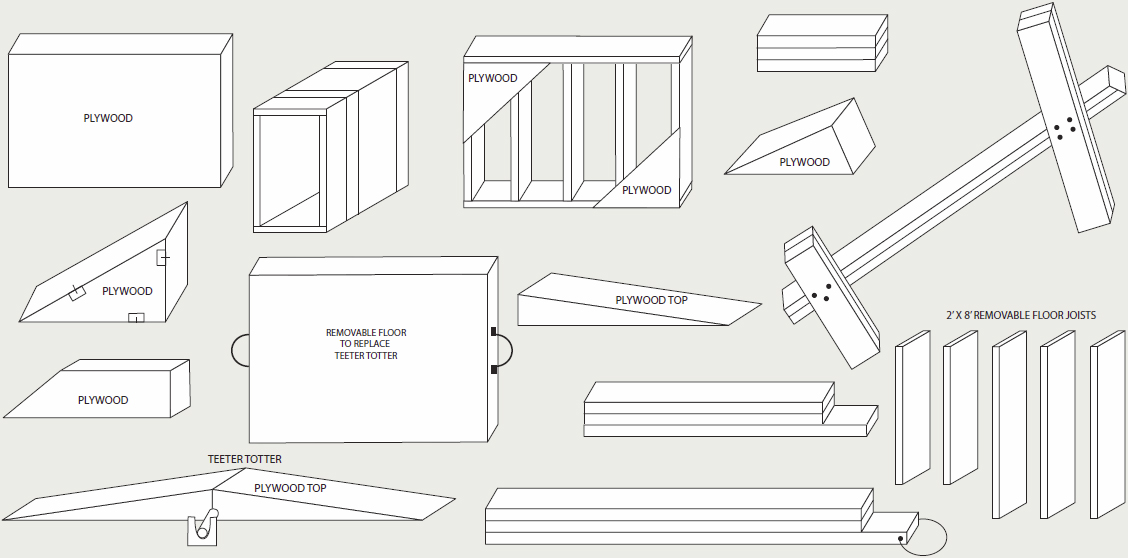 Command Center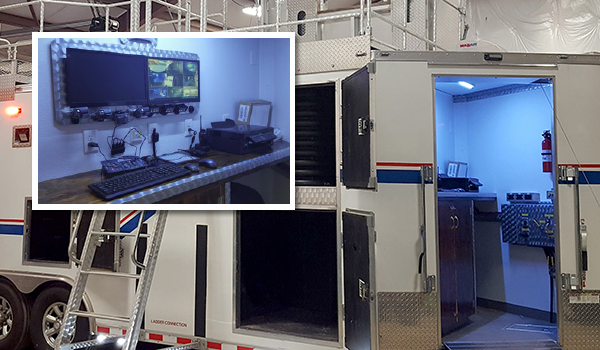 The Guardian® Command Center is located in the V-nose of the simulator. This Command Center is equipped with state-of-the-art technology. Equipped with a premium hard drive, it can store specific training information for each responder. This allows for officers to continually monitor the development of their personnel. An intercom allows Incident Commanders to communicate with the crews operating inside the simulator. Gauges and valves for smoke, high pressure air and water are also easily controlled in the Command Center. There are two 22" LCD monitors that display our customized sound effects programs, as well as the viewpoints from our infrared cameras.

The sound effects programs are stored in the Command Center's hard drive. The sound effects were developed to add increased realism while responders are performing training inside the simulator. Underneath the floors throughout Division 2 are rumble speakers which are tied into different sound effects programs. The "rumblers" work in conjunction with premium Yamaha speakers located throughout the interior. Multiple amplifiers in the Command Center allow for all effects to operate simultaneously.

Ballistic infrared cameras are mounted throughout the simulator. These cameras are connected to a DVR system so that training operations can be recorded and reviewed by Incident Command. Multiple cameras on the roof and side compartments are partnered with LED lighting for use during night operations. Mounted inside the Command Center are additional GoPro cameras with lights for monitoring specific personnel during training operations.
Window Bailout
The window bailout prop is made of aluminum diamond plate which is welded to the roof observation deck, creating one- piece construction. It is complete with cables, brackets and D-rings to ensure the stability and safety of personnel. The bailout prop can be utilized for ladder placement, vent/enter/search, and 2nd floor rescue. More importantly, it is vital in teaching fire fighters the proper techniques for ladder bailouts, emergency bailouts using repelling bags, window hangs and hang & drops. This prop also allows for the option of engine operations while advancing hose through 2nd floor window and down through Division 2 of the simulator.
Manhole/Sewer Line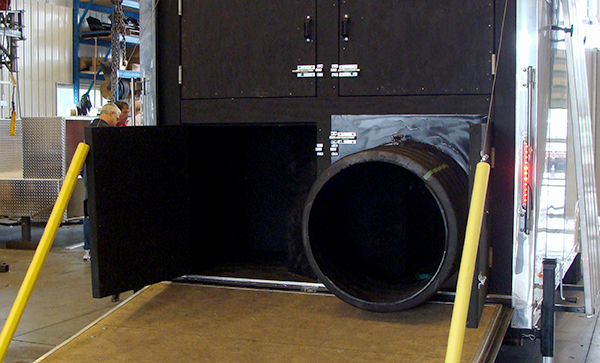 The manhole is located on top of the simulator. It is covered by a diamond plate hatch sealed with weather stripping. A confined space rescue & retrieval tripod is secured above the manhole to lower rescuers into the sewer line. Our sewer line is made of rigid black plastic sewer pipe. There are multiple sections of these pipes ranging in lengths 10ft. to 20ft. The pipes are connected below the manhole and run vertically down to a simulated transfer case and then horizontally through the simulator. Each section of piping is connected with a collar that is held together with heavy duty wire ties. This allows for sections to be pulled apart quickly, if necessary. There is a hose attachment that allows for water to spray against the sidewall of the pipe and flow down throughout the rest of the prop. This creates the realism of a responder packaging and rescuing a victim in an actual sewer line.
Railcar Dome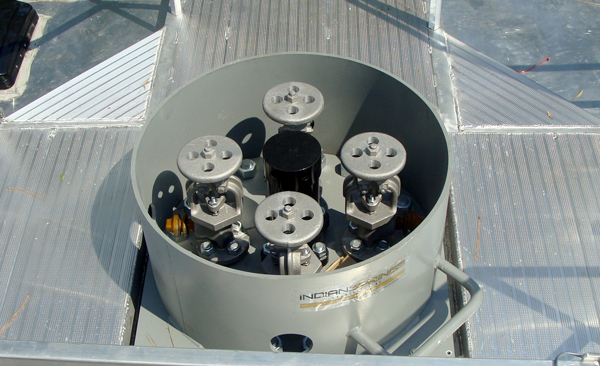 The railcar training dome is mounted on a platform that bridges the roof of the Guardian®. This platform is welded to the roof along with railings for the safety of personnel. There's a set of 4 valves at the top of the dome, simulating a railcar. These valves release high pressure air and water which can be controlled through the Command Center. By blending the two, we are able to create a mist or liquid simulating chlorine and other hazardous material leaks.
Unstable Building Simulation Prop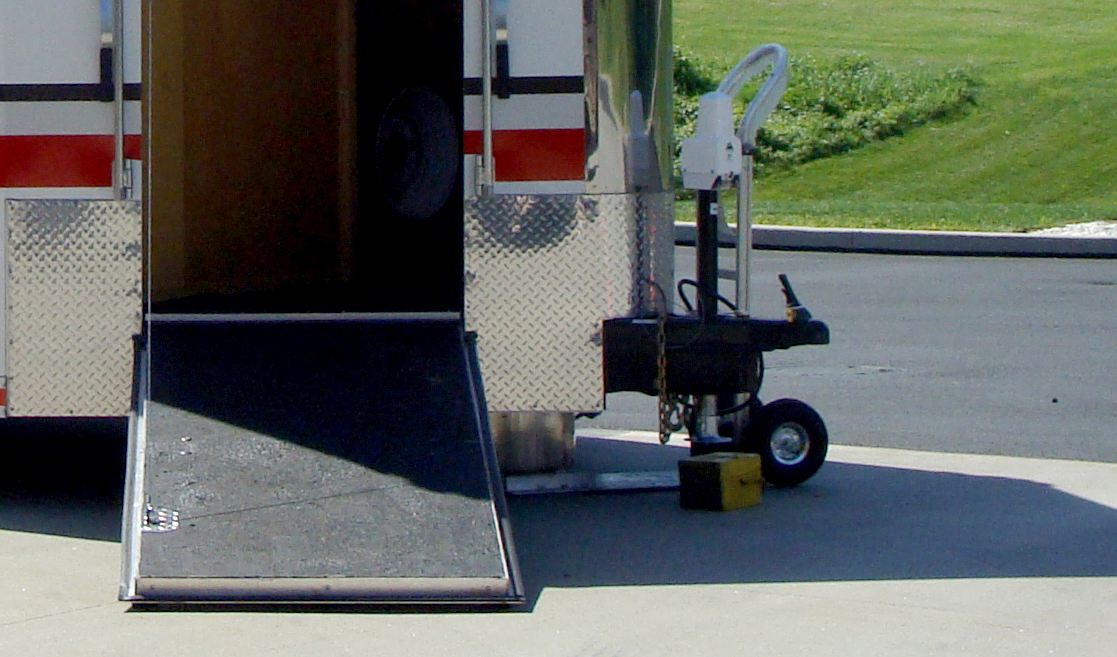 This kit is made up of an airbag/piston configuration. It is placed directly under the front of the reinforced steel V-nose. A high-pressure airline feeds the piston and inflates the internal airbag. A valve in the Guardian® Command Center controls the pressure inside the airbag. By manipulating the valve, the Guardian® will rock up and down, creating an unstable environment inside the simulator while crews are operating. This prop is an excellent addition to enhance the realism on collapse training scenarios.
Chemical Cylinders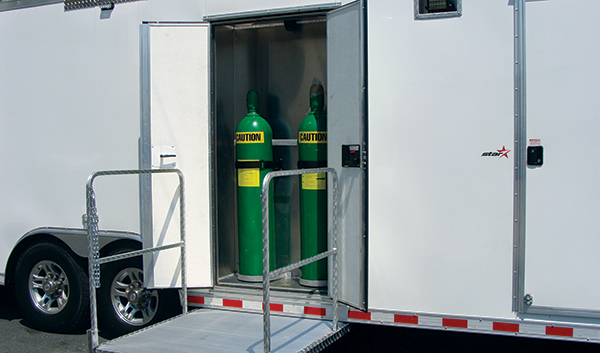 Our 150lb training cylinders are mounted on the curbside of the Guardian®. They are enclosed in a welded aluminum cabinet. The cylinders are designed to simulate leaks both at the valve and in their sidewall. Each cylinder is secured inside the cabinet with a removable bracket. These training cylinders are ideal for Hazmat operations on leaking chlorine and anhydrous ammonia containers.